---
THE "SAFETY" INSULATOR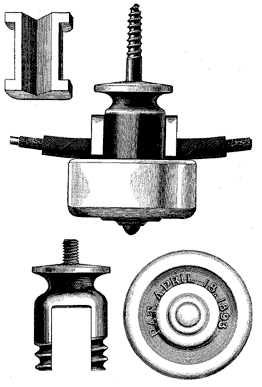 The "Safety" Insulator.
The accompanying illustrations show an insulator recently introduced by McLeod, Ward & Co. of 91 Liberty street, this city. Its use and operation are so clearly indicated that little remains to be said in the way of description. The insulating parts are made of porcelain and there is a slight raise on the upper piece, so that when the lower piece is screwed up the wire is clamped firmly, and bent slightly and cannot be pulled in either direction. It can be put up very readily without the use of a screw driver or other tool.
These insulators are made in a variety of sizes and are also furnished with machine screws, instead of the wood screw shown, if desired.