---
High-Voltage Insulators.
---
Up to within the past two or three years the form of insulators used for the purpose of supporting electrical conductors on poles underwent practically no change since these devices were first introduced. They answered every purpose under the comparatively low electric pressures then utilized, but on the adoption of high pressures in transmission lines it at once became evident that the old form of insulators was not suited for the new conditions.
Mr. Fred M. Locke, Victor, N. Y., was among the first to observe the deficiencies in the old form of insulator as supports for high pressure electrical lines. He noted the tendency to arc between the lower edge of the insulator and the supporting pin. This trouble is avoided by Mr. Locke in his high voltage insulators, by constructing them of larger diameter, thus introducing a wider air space and consequently higher resistance between the edges and the pin. Another important advantage of this form of insulator is the stronger support afforded by the short pin.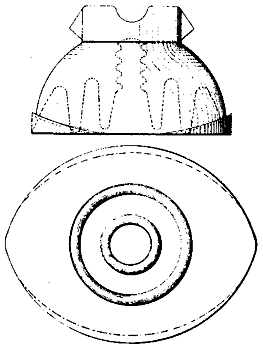 Helmet Insulator.
In rainy or damp weather the drippings from the edge of an insulator reduce the insulation more or less, and it is desirable, therefore, to avoid this leakage loss as far as possible. Mr. Locke accomplishes this desirable result in the triple petticoat oval form of insulator by providing a bend or trough upon its periphery to conduct the water and drippings to the points farthest removed from the supporting pin, i. e., at the opposite ends of the longer axis. The form and adoption of this trough are shown in the illustration.
The advantage of the petticoats or skirts inside of the insulator are obvious.
The insulator illustrated represents the form used at Niagara Falls and on the Lachine Rapids transmission line, and is known as the Helmet type. Patents on this insulator have been issued to Mr. Locke, who is said to be the originator of the triple petticoat.