---
Glass Tree-Insulator.
---
What is said to be the only "all glass" tree insulator is being introduced in the electric light field by the Ajax Line Material Company, of Chicago. It is the invention of Mr. Scott C. Cutter, whose test clamps are already familiar to telephone people, and as offered for electric light circuits will take wires up to 1/2 in. outside diameter.
The insulator is made of a single piece of glass, toughened by annealing and provided with a slot which the wire cannot leave by accident. The cut shows it lashed to the trunk of a tree, but does not bring out the concave ribbed back which keeps it from sliding. Naturally the ease with which this glass tree insulator can be slipped over wires already in place will readily commend it to practical men.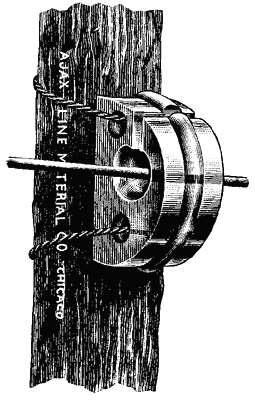 Tree Insulator.