---
Line and Strain Insulators
---
The line and strain insulators illustrated herewith were invented by Mr. Louis Steinberger and are being put on the market by the Electrose Manufacturing Company, 60 Washington Street, Brooklyn, N. Y. Each insulator is made up of an integral and uniformly solid mass of insulating material with a strain or suspension member embedded therein. The latter is interlinked in such a manner that even if all the insulating material should be removed or destroyed, it would be impossible for the line to fall to the ground.

Figs. 1, 2 and 3 - Insulator With Line Clamp Attached, Suspension-Type Insulator, Showing Mechanical Detail, and Strain-Type Insulator
The line clamp has a smooth bore for gripping the wire or cable, thereby preventing crystallization and the possible breaking of the conductor at or near the clamp. The clamp is designed to grip conductors of various diameters. It is light in weight, but it is sufficiently strong to break the conductor before any slippage can take place. The metal parts of these insulators are made of galvanized drop-forged steel.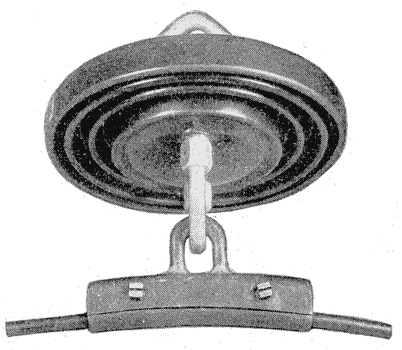 Suspension-Type Insulator With Line Clamp
The disk strain insulators are made in sizes having diameters of 5.5 in., 7.5 in., 10.5 in., 12.5 in. and 14.5 in., and the disk strain and suspension insulators in diameters of 8 in., 10 in., 12 in., 14 in. and 16 in. The accompanying table gives test values obtained with the 7.5-in. disk strain insulator and the 10-in. disk strain and suspension insulator.
In addition to the excellent electrical characteristics of the insulators, they possess many desirable features from the mechanical point of view. There are no loose parts to be lost and no special tools are required for connecting or disconnecting the units. By means of a plain wrench, a nail or even a piece of wire two or more units may be connected or disconnected in a fraction of a minute.