---
INSULATORS FOR ELECTRIC WIRES.
One side of the insulator is cut away and provided with a concave laterally projecting lip, having a transverse groove adapted to receive the wire. To the plane face of the insulator is pivoted a lever, formed with two oppositely arranged cam segments, having grooves in their peripheries to receive the wire. The lever is provided with an arm having a cross arm, made with hooks on its ends. The wire is placed in the concave lip when the arm is in a vertical position, and the wire is clamped between one of the cams and the concave lip, by turning the arm into a horizontal position, when the arm is held by the hook being brought into engagement with the wire. With this construction, the wires may be readily strung and securely fastened and when it is desirable to remove them, they may be readily disengaged by releasing the lever and turning it to a vertical position. The body of the insulator has a circumferential groove, which permits of applying the usual binding wire, if desirable.
This invention has been patented by Mr. John M. Leonardson, of Ludington, Michigan.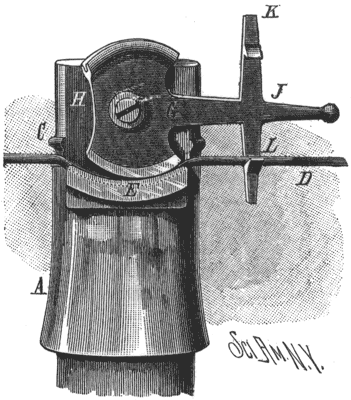 Leonardson's Insulator for Electric Wires.