---
The Victor Split Insulator.
This departure in insulators is illustrated in this issue, showing its various applications. This insulator (manufactured by Greeley) has the especial merit of being provided with an opening to accommodate the largest wires, perfectly smooth bearing and locking lugs, that prevent any torsion of the two parts which may be bound together either by the insulator hanger or ordinary iron or copper line wire of a size adapted to the strength required for any given service, or as may be most convenient. Being in two parts they can be put upon a line already erected equally as well as upon a new one; and for taking up sag, and for guys and hauling off purposes, they are of undoubted value. They may be used to increase the capacity of cross arms by suspending them beneath. On elevated road structures and in tunnel work they are particularly useful. The ends of the hanger are long enough to encircle the insulator twice when they are simply twisted together as shown. The upper end or bearing of the hanger is provided with a stout smooth thimble that will withstand any abrasion, and which when hung on a hook, staple, or loop of wire, secures a practically universal joint admitting of free motion in all directions.

The Victor Insulator Used Singly As A "Circuit Breaker."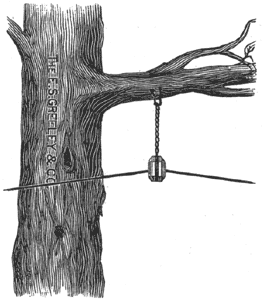 The Victor Insulator Used With A Victor Hanger As A "Tree Insulator."

Victor Insulator Hanger Applied to the Victor Split Insulator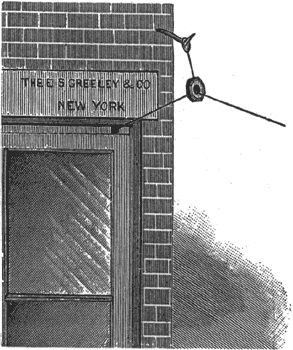 Used With A Victor Hanger As A "Guy" or A "Take Up" on A Continuous Wire.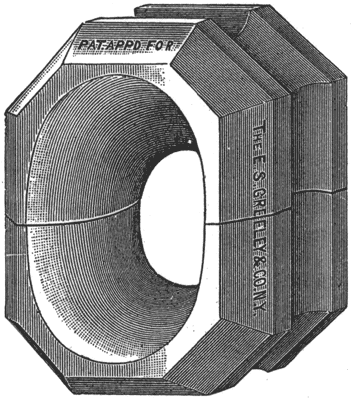 Full Size Cut of the "Victor Split Insulator."