---
Improvements in Insulators.
---
The three accompanying cuts illustrate some improvements in insulators recently brought out by Messrs. Shay, Stephens & Co., Chicago. Insulator No. 12, made of porcelain, is for "high insulation." It is soon to be produced in glass.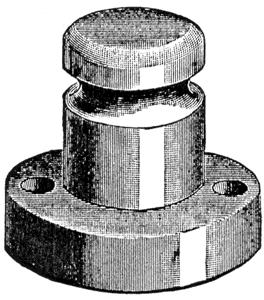 Insulator No. 12
No. 13 is a floor insulator, and is used extensively for running heavy wires through floors and window frames.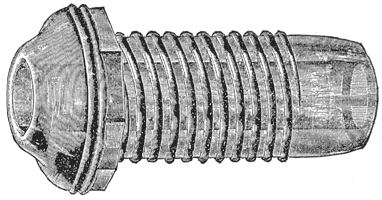 Insulator No. 13
Insulator No. 40 is a "double petticoat" of medium size, and finds a large scale.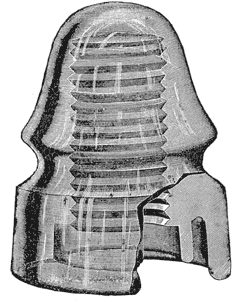 Insulator No. 40
Other popular insulators, besides those shown in the illustrations, are designated by the manufacturers as Nos. 2, 8, 19 and 27. No. 2, the "pony double petticoat" insulator, is for the smallest wire in use. No. 8 insulator, which has a deep groove, is suitable for the largest size wire used. Their No. 19 double petticoat deep-grooved insulator is suitable for large or small wire, and will, they claim, "stand the highest potential without the slightest leak."
Insulator No. 27 is made of porcelain and glazed entirely. The same style and shape insulator is henceforth to be made in glass.