---
TRADE NOTES AND NOVELTIES
AND MECHANICAL DEPARTMENT.
---
To advertise skillfully is part of the art of selling
successfully
---
·
·
ANDERSON INSULATORS.
THE "trolley wire hanger" and the "curve pull-off" described herewith, are specimens of a very strong and substantial order of overhead line devices. A composition known as the "Etna" insulating material is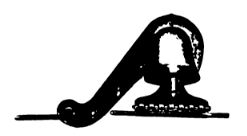 The Anderson Curve Pull Off Insulator.
moulded into the bells. It is said to be practically indestructible, and to afford very high insulation. The wire-holding device is in the line of the latest development in that sphere. It is entirely simple, and would

The Anderson Trolley Wire Hanger.
appear to be very effective. The cut shows clearly the action of the clamp when the pin is driven into place. These Anderson insulators are handled by the Electrical Supply Co., of Chicago.
·
·