---
New Form of Insulators.
---
The enterprising firm of Pass & Seymour, Syracuse, N. Y., has perfected and placed on the market two forms of insulators, cuts of which are given herewith. Fig. 1 is an insulator designed as a circuit breaker. Its great advantage is that the distance between the wires is the greatest possible, and being placed in grooves in the porcelain, they are largely protected from moisture, thus securing a good insulation. For strength it will stand the breaking strain of any wire that can be attached to it. These insulators are made in three sizes.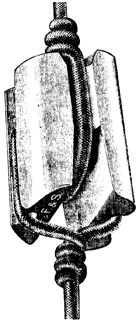 Fig. 1. - Pass & Seymour Insulator.
A porcelain cleat intended to take the place of the wooden cleats commonly used is also made. It is so made that the wire may be held in position loosely until properly adjusted, when, by tightening the screw, the wire is bent in the rounded jaws of the cleat and held very firmly. This insulator holds any size wire, from the smallest used to No. 6.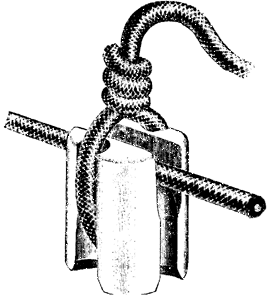 Fig. 2. - Pass & Seymour Insulator.
Both these insulators are made of the well known Syracuse china, fully glazed, manufactured only by Messrs. Pass & Seymour. They have recently doubled their insulator plant capacity and completed arrangements to furnish work with the greatest promptness.