---
THE PASS & SEYMOUR COVERED MOTOR CUTOUT.
AMONG the ingenious and useful specialties recently introduced by Messrs. Pass & Seymour, of Syracuse, N. Y., is the new covered single-pole motor cut-out, shown in the accompanying illustration. This cut-out is designed for motors on power circuits, and as it has a fuse 3 inches long it is especially adapted for 500-volt circuits. The channel which encases the fuse is of such a shape as to cause the fuse to be bent at four angles, which adds to the efficiency, as it is difficult to get a fuse to arc around an angle. In order to remove the cover for the purpose of renewing the fuse it is only necessary to loosen the screws A A half a turn.
In common with other goods manufactured by this company, the cut-out is made of highly vitrified Syracuse china.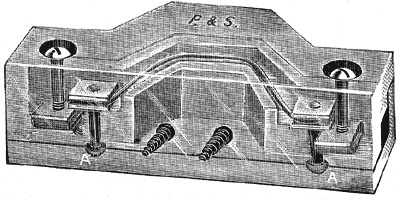 Pass & Seymour Covered Motor Cut-Out.