---
New Trolley Wire Insulator.
---
A new trolley wire insulator for straight line work has been brought out, and is being manufactured by the Creaghead Engineering Company of Cincinnati, O. This device is shown in the accompanying cuts.
The design and construction of the insulator is such as to give strength and at the same time lightness. The insulation shown in the engravings is moulded mica, but hard rubber insulation is furnished if desired. The insulator is moulded around a steel bolt three eighths of an inch in diameter at its upper end, and threaded to receive a clamp at the lower end. It is about the same shape as an ordinary glass insulator for supporting electric wire, and in consequence readily sheds water and offers a large insulating surface, both outside and inside of the petticoat.

Fig. 2.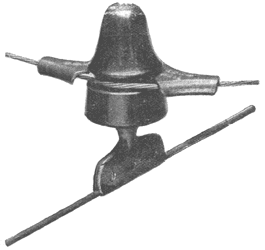 Fig. 1. New Trolley Wire Insulator.
The insulator is attached to the span wire by means of malleable iron yoke shown in Fig. 2. This yoke can be attached to or removed from the span wire at any point, without cutting the span wire. Every strain on the trolley wire only tends to increase the hold of the span'wire and the yoke on the insulator.
Two styles of trolley clamps are manufactured, one haying a hinge and one without. The clamps of both are screwed to the end of the steel bolt, extending from the center of the bottom of the insulator, and are easily attached. Other forms of clamps or soldered ears are also made and furnished.
The company reports highly satisfactory results from the use of the insulators on several complete equipments installed during the past year.