---
High-Potential Line Insulator.
---
The insulator shown in the accompanying illustration was the subject of a patent issued December it to Prof. F. G. Baum. The insulator has been designed for very high voltages, and is arranged to operate effectively in rainy weather and not to deteriorate from accumulation of dust upon its surface. The line wire is supported by a tubular insulator, having ribs adapted to be washed by the rains, which is mounted on an insulator having numerous petticoats, each of which has its inner surface corrugated so as to provide a greater insulating surface. The ribs of the tubular insulator being washed by the rains are always absolutely clean, and secure perfect insulation in dry weather. In wet weather the interior surfaces of the petticoats are in condition to effectively insulate the line conductor.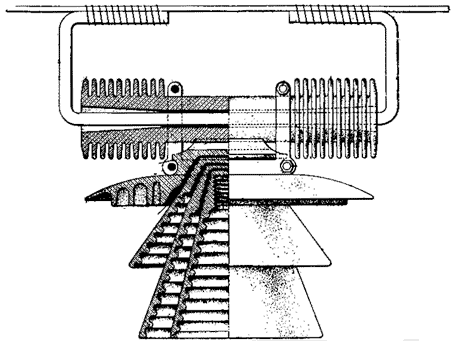 Baum High-Tension Insulator.