---
DEATH OF JAMES PASS.
---
JAMES PASS, president and general manager of the Onondaga Pottery Co., and one of the most prominent business men of Syracuse, N. Y., died October 30 at his residence in that city after an illness lasting ten days. He was also president of the Pass & Seymour Co., and a director of the First National Bank.
Mr. Pass was a charter member of the American Ceramic Society, and in 1896 and 1897 was honored with the presidency of the United States Potters' Association.
Although he had not been in the best of health for several years, he remained active in all business affairs until about ten days ago, when he contracted a severe cold. He had been a sufferer with asthma for a long time. The severity of this malady was increased by the cold and he failed steadily.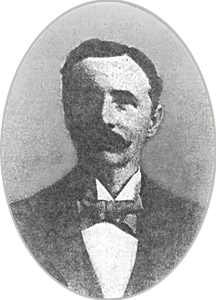 James Pass.
Mr. Pass was born in Burslem, Staffordshire, England, June 1, 1856. In 1863 his father, Richard Pass, who was a pottery manufacturer, brought his family to America and for a time resided in Cincinnati, but after the close of the Civil War he removed to Trenton, N. J. and in 1875 went to Syracuse as superintendent of the Onondaga Pottery Co. He continued with the company until his death, in 1884.
James Pass was only seven years old when his parents landed in America and his education was largely acquired in the common schools of Trenton, N. J. At the age of thirteen he was apprenticed to a pottery maker at Trenton, serving there until he was eighteen, when he went to Syracuse.
He was appointed foreman of the Onondaga Pottery under his father, the company at that time employing about fifty persons. He remained as foreman until 1881, after which he spent three years in the West.
In 1884 Mr. Pass returned to accept the position of general superintendent and in 1891 became general manager, while later he was also chosen vice-president. Under his direction the business of the Onondaga Pottery Co. increased until it now employs 700 persons. At first the product was earthenware, but Mr. Pass developed what is called Syracuse china, now the sole output of the company.