---
New Porcelain Insulator for High Potential Current.
---
The common form of porcelain insulators for sustaining interior line wires is that of a pillar having a perforation through its center, through which a screw may be passed to secure it, a groove being provided near the top to receive and hold the wire. In such insulators the true insulation distance is not that from the wire to the base, but from the wire to some part of the screw. To obtain the highest insulating distance the diameter of the porcelain pillar should be more than twice the height of the wire from the base. This is, however, seldom realized particularly in insulators employed in electric gas lighting work, where the potential of the current employed runs up from 25,000 volts, the spark being capable of jumping through an air space of from 1 to 1-1/2 inches. In such work it is particularly necessary that insulators have as small a diameter as possible, for the sake of neatness. The mere lengthening of the body of the pillar affords no increase in the insulation resistance so long as the distance of the wire from the screw head remains the same.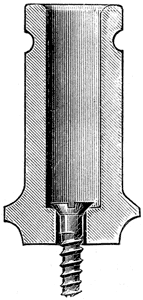 Fig. 1.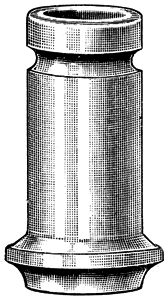 Fig. 2.
Fig. 2 is a full size view of a new construction of porcelain insulator designed to overcome the disadvantages referred to. Fig. 1 being a sectional view of the same. The pillar is made hollow, the shoulder for the screw being located inside at its base. While the outside diameter is no larger than the smallest insulator that has been made, all parts of the screw are at a distance from the wire groove not less than 1-3/4 inches in any direction. Although the exterior presents a neat and unobtrusive appearance, it allows an ordinary screwdriver to pass into the tube to drive the screw.
These insulators have just been put on the market by the A. L. Bogart Company, 123 Liberty Street, New York City.