---
THE PARIS ELECTRICAL EXHIBITION.
---
THE BRITISH SECTION.
---
Siemens Bros. & Co., Limited.
(Continued)
·
·
Figs. 9, 10, and 11 show some of the the forms of "INSULATORS" exhibited. Fig. 9 represents two insulators fitted with iron caps and excentrics, the latter by being turned round grip the wire tightly.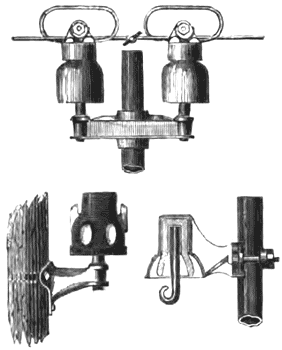 Fig. 9, Fig. 10, Fig. 11