---
The P. & S. Outlet Insulators.
---
Where wiring is done for outlets adjoining gas pipes, it has been found difficult to get proper insulation at this point. The wires are apt to be displaced by the lathers and plasterers and leakage may occur between the wire and the gas pipe with which it is in contact. Then the inspector who cannot see the work under the plaster is is puzzled to locate the ground.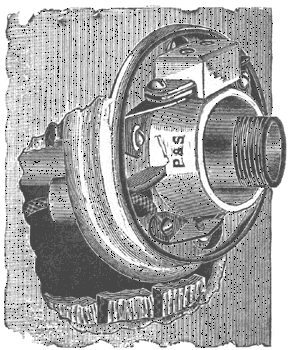 Fig. 1. — the P. & S. Outlet Insulator.
To overcome these difficulties, Pass & Seymour of Syracuse, N.Y., have devised two methods of insulation at the outlets. One consists in using small curved tubes made of tough china, which, when fastened to the gas pipe with tape, insulate the wires from both the iron pipe and the plaster. The china tubes will not bend out of shape like those made of fibre or rubber, nor will they deteriorate with age.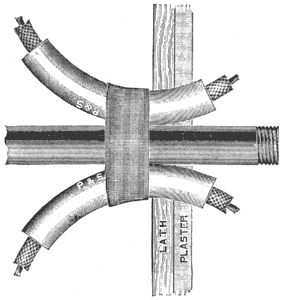 Fig. 2. — the P. & S. Outlet Insulator.
Where a cutout is wanted at the outlet, the outlet insulator shown in the cut is a very serviceable device. This is fastened direct to the lathing and projects slightly beyond the plaster. The wires pass through the holes in the china, so that they cannot possibly touch the iron plate. The cutout part can be fused with special plugs as in the cutout or with the plain fuse wire. It takes the place of the horseshoe or bug cut-out, is more firmly fastened to the ceiling and more easily fused. It ought to prove a useful fixture for all kinds of concealed wiring. This as well as the small china tube is handled in the west by George Cutter.