---
Loop Insulating Device.
The accompanying cuts illustrate the main features of a number of forms of insulators recently devised by H. D. Winton of Wellesley, Mass. The fixture is so simple and so clearly illustrated that but few words are necessary in explanation of its construction.
Two metallic hooks, cross-heads or their equivalents, are moulded or cast within insulating material, asshown. The interlink of the separated hooks in the body of the insulating substance gives the device strength and stability. One of the features claimed for this type of insulator is that should the insulating material crush, or give way in any manner, the hooks or cross-heads would not fall apart, but would cling together and cause only the temporary interruption of the current from its intended course.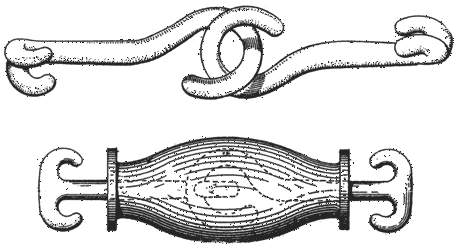 Loop Insulating Device.