---
Giant Strain Insulator.
The accompanying cuts illustrate the new "Giant" strain insulator manufactured by the H. W. Johns Manufacturing company of New York. This device is simple in construction and very powerful, having an average breaking strain of 6,500. pounds. It is insulated with sheet mica internally and is completely covered exteriorly with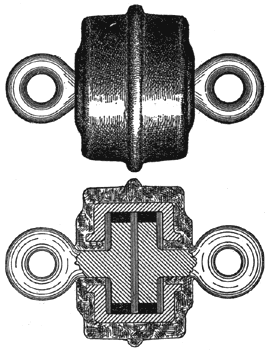 Giant Strain Insulator.
moulded mica. The design is such that no parts can become displaced under the severest strain, and all parts are thoroughly protected so that the sheet mica and the insulator itself cannot absorb moisture. This insulator attracted much attention at the Milwaukee convention.