---
New Two Wire Self-tying Cleat.
Several new forms of porcelain cleats have lately been placed on the market. The accompanying cut represents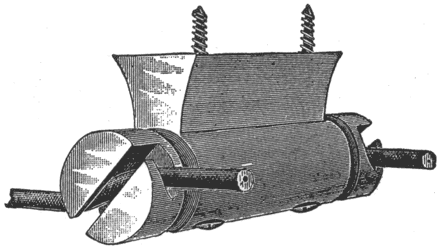 New Two Wire Self-Tying Cleat.
one made by the Conover Insulator company of Cincinnati, O. In appearance it is entirely different from anything now in use, being made in one solid piece, which can be used in any position. The self-tying feature is independent of the supporting screws, which obviates the danger of breakage. It consists of grooves so placed as to form a slight curve in the wire, as shown in the cut, compelling it to wedge or bind, thus holding it securely from passing either way. The cylindrical part also retains the tie-wire groove of the common knob for "dead-ending" purposes and prevents the wire from making contact with any foreign substance, thus increasing the insulation.