---
Convention Notes.
·
·
The Akron Insulator & Marble company's exhibit was incorporated in that of H. B. Camp & Co., as is shown in the illustration of this latter company's display. In charge of the hustling representative of the Camp company, A. L. Daniels, the Akron Insulator & Marble company was well cared for.
·
·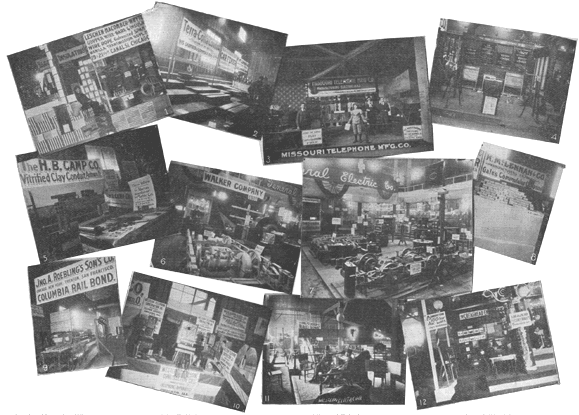 1. Leschen-Macomber-Whyte Company. Electric Insulating Company.
2. John T. Mcroy.
3. Missouri Telephone Company.
4. Adams & Westlake Company.
5. H. B. Camp Company. Akron Insulator & Marble Company.
6. Walker Company.
7. General Electric Company.
8. K. Mclennan & Company.
9. John A. Roebling's Sons Company.
10. Western Telephone Construction Company. Mississippi Glass Company.
11. Standard Underground Cable Company. Phoenix Carbon Manufacturing Company.
12. Creaghead Engineering Company. Jewell Belting Company. New York Belting & Packing Company.

American Street Railway Association.
·
·