---
"H. W. J." Arc Lamp Hanger.
A new arc lamp hanger, introduced by the H. W. Johns Manufacturing company is constructed after the principles embodied in its giant strain insulator for trolley span wires, insuring great strength an high insulating qualities. The lamp insulator is bell-shaped, with a ring at the top for the hanging cord and a hook at the bottom to receive the ring in the top of the lamp. The cut of the hanger in section shows the arrangement of the ring and hook and the method of insulating these parts from each other and from the metal retaining case by sheet mica and moulded mica, the latter moulded under great pressure and forming the outer covering and the petticoat. The design of the insulator is such that there is ample insulating surface; the breaking strain is 1,000 pounds. The hook is made of malleable iron, which may be bent or closed over the lamp ring if desired. By adopting the giant strain construction the sheet mica supports all tensile strains, the moulded mica fills every crevice and furnishes the best of insulation, and the metal casing prevents any possibility of the hanger giving way and dropping the lamp into the street.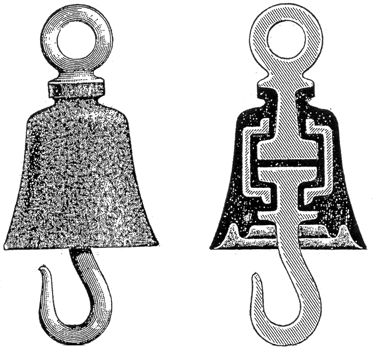 "H. W. J." Arc Lamp Hanger.