---
Wood's Eureka Porcelain Cleat.
M. M. Wood, Chicago, well known as an inventor and manufacturer, seems to be well supplied with new ideas. His latest has taken the form of Wood's eureka porcelain cleat, as shown in cut; and it seems to embody the features necessary to make it indispensable to wiremen. The idea of having the slot parallel with the wire, so that the wire can be pulled tight before placing it in the cleat, is believed to be a new one and do doubt will be appreciated by those using the device.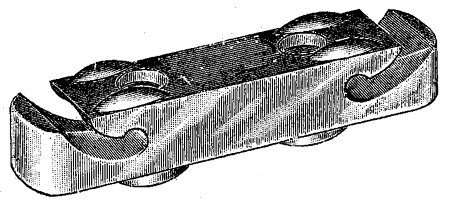 Wood's Eureka Porcelain Cleat.