---
Medbery Specialties.
The Fiberite company of Mechanicsville, N. Y., has recently placed on the market a number of new designs for overhead trolley equipment for electric railways and lighting purposes, which have attracted no little attention. One of these is a groove top feed wire insulator, shown in Fig. 1, to carry an inch and a half cable on the top and two sides. The Medbery insulation is a composition invented by H. J. Medbery, after a long series of experiments, and is a chemical mixture, moulded while in a plastic state, under enormous hydraulic pressure, into various shapes, for electric insulating purposes. It is a very hard,, strong, tough, acid and water proof material, and impervious to the weather. Possessed of high insulating qualities, it resists high temperatures, and is in every way a model Insulation for those who construct their lines with a view to permanency.
The Fiberite company has had such a large demand for this material in foreign countries that it is about to appoint several agencies in England and Germany.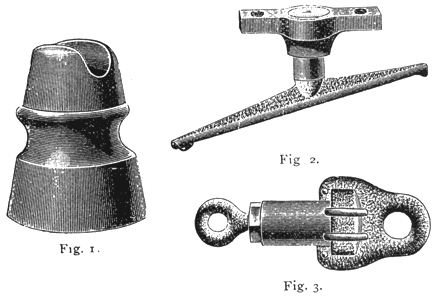 Medbery Specialties.
The Fiberite company, through its agent, the Mason Electric company, Chicago, is sending out a new catalogue of its material. The two devices illustrated in Figs. 2 and 3 are being used very largely on the different Chicago roads. Fig. 2 shows a car house insulator. All of the barns of the North and West Chicago systems have been fitted with this device, which is made strong and rigid for such very trying work. The Medbery bolt gives absolute insulation. Fig. 3 represents a strain insulator and turnbuckle combined and is used by both the roads mentioned wherever unusual strength is necessary. The Mason Electric company will send catalogues on application.