---
ILLUSTRATED ELECTRICAL PATENT RECORD.
Issued June 7, 1898
·
·
605,256. Insulator. Ralph D. Mershon, Colorado Springs, Colo. Application filed February 14, 1898.
An insulator for high-tension circuits having a long, tubular petticoat adjacent to the supporting pin and a short outer petticoat of much greater diameter, the edge of which is approximately the same striking distance from the cross-arm and the supporting pin.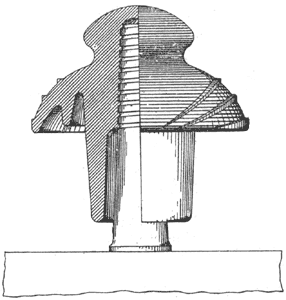 No. 605,256.
·
·