---
ILLUSTRATED ELECTRICAL PATENT RECORD.
Issued November 1, 1898
·
·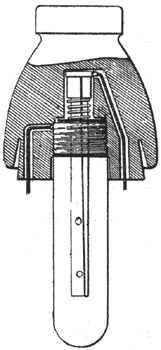 No. 613,594.
613,594. Electrical Fuse-wire Holder. William D. Packard, Warren, O. Application filed September 29, 1897.
A visible fuse cut-out comprising, in combination with an insulator having terminals, a casing projected outwardly from the insulator and having a cap, a fuse-wire and a pendant holder therefor located in the casing and projected beyond the inner end thereof, the wire being placed in circuit with the terminals when the casing is forced home in the insulator.
·
·