---
ILLUSTRATED ELECTRICAL PATENT RECORD.
Issued (United States Patent Office) February 21, 1905.
·
·
783,348. Insulator. Evans C. Wright, Portland, Ore., assignor of one-half to Francis J. McHenry, Portland, Ore. Application filed March 18, 1904.
An insulator having a longitudinal bore and a transverse bore at one side of the longitudinal bore is described. The insulator has a groove commencing at one side of the transverse bore and extending downwardly and around to the front, then upwardly toward the top, then transversely toward the other side, then downwardly and rearwardly and intersecting the transverse bore at the commencement of the groove. (See cut.)
·
·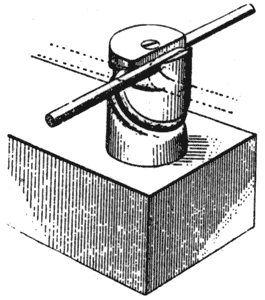 No. 783,348 — Insulator.
·
·