---
All-steel Insulator Pin.
One of the latest additions to the construction material list to be patented is an all-steel insulator pin, the invention of Frank MacKean of Chicago, who has succeeded in bringing out an article that does away with the annoying wood ends, segments and other devices that have heretofore been the adjuncts of metal pins other than the heavy, rigid cast and malleable ones. It is believed by many that the era of the wooden pin is fast passing away, locust becoming each year higher priced and more difficult to obtain, while other woods are not so suitable for this work.
The unique feature of the construction of the MacKean all-steel pin is that it is composed of one strip of metal sheet, which is stamped into a pin with perfectly formed threads, a base and a rounded stem, so shaped as to make it amply strong to carry the strains of the heaviest line work. Ready adaptation to all the different forms of brackets, as well as to the numerous styles of special pins that have come into general use with the advent of high-tension transmission, will, Mr. MacKean believes, quickly make it a general favorite with the construction man, whether he be building a rural telephone line, a village lighting system or a 40,000-volt power-transmission line.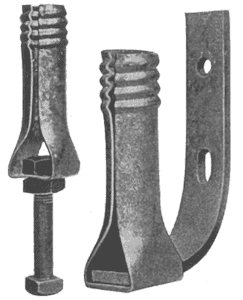 All-Steel Insulator Pin.
Illustrated herewith are two adaptations of this pin, one to cross-arm construction and the other to a bracket. Any standard carriage or machine bolt can be used to place this pin on a cross-arm, or it can be fastened readily to any surface by such a bolt, or a lag screw, using a socket wrench for the last-named method.
It is declared that the lines of this pin insure ample strength and resilience. Any glass or porcelain insulator fits it, while the extremes of heat and cold do not add any extra strain to the insulator. The split sections, with only their top points engaging each other, makes a pin that, it is said, will save its first cost annually in insulators, as well as annoying breakdowns.
George D. Wilson, 30 North Desplaihes Street, Chicago, is the manufacturing and sales agent for this article.