---
Pass & Seymour Porcelain Specialties.
In the accompanying illustrations are shown a few of the porcelain specialties manufactured by Pass & Seymour of Solvay, N. Y. The single-pole snap switch (Fig. 3) which they have recently put on the market is said to be one of the most complete switches of its kind yet manufactured. It has a handsome appearance, and while it is simple in construction, it has ample carrying capacity and a quick make and break. The contacts are firm and the action positive. The base is made of the well-known "P. & S. porcelain" of the required height, and the cap is heavily lined with fiber. The switch is highly finished and the design is neat, presenting a pleasing appearance. The test of a switch showed it to be unusually long- lived, as it made over 50,000 makes and breaks with 15 amperes at 220 volts, and was in good condition when the test was discontinued. The switch at the present time is only made in the single-pole pattern, but it is expected that a double-pole will be brought out shortly.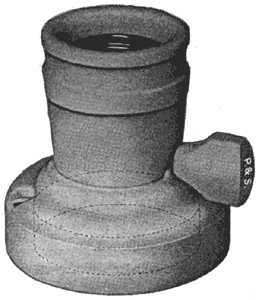 Fig. 1. Wall Socket.

Pass and Seymour Porcelain Specialties.
Plug cut-outs (Fig. 2) of the Edison style are another new departure of this firm. Not only has great care been taken to make these cut-outs correct, mechanically and electrically, but a successful effort has been made to combine with these necessary qualifications a pleasing appearance. They are made to carry 30 amperes, or less, on a 125-volt circuit.
A new wall socket for concealed work has proven itself to be a very useful article. The accompanying cut (Fig. 1) shows the important features of the socket. The socket is approved for 250 volts, which is also true of the firm's other styles, namely, the pendant, fixture and regular wall types.
This enterprising concern has made remarkable progress since it started the manufacture of porcelain goods, less than 12 years ago. Its policy has always been to put nothing on the market but what was strictly high grade in every particular and in accordance with the rules of the fire underwriters.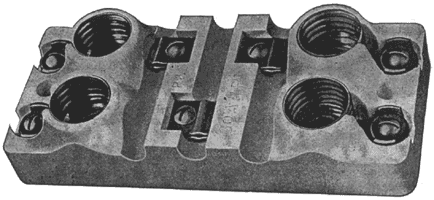 Fig. 2. Plug Cut-Out.

Pass and Seymour Porcelain Specialties.
"P. & S. porcelain," which is of a superior quality, is used throughout the United States and Canada, and large stocks of the finished goods are carried at all of the branch offices, which are located in New York, Chicago, Boston, Cincinnati and San Francisco. The main office and works of the firm are located in Solvay, N. Y., where the company is occupying a large factory erected about two years ago. The secretary and general manager, B. E. Salisbury, is at present in San Francisco, looking after the firm's interests.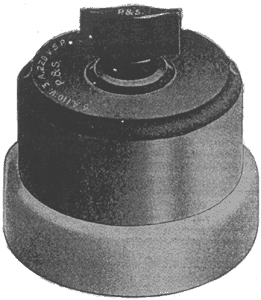 Fig. 3. Pass and Seymour Single-Pole Snap Switch.
The Cincinnati office of the firm has been removed from 405 Union Trust Building to more suitable and commodious quarters at 234 West Fourth Street, where a full line and complete stock of P. & S. specialties are carried. A cordial invitation is extended by Pass & Seymour to those attending the National Electric Light Association's convention to be held at the Grand Hotel on May 20th, 21st and 22d, to visit them in their new quarters, and any desiring to make their office their headquarters during the convention are cordially invited to do so.