---
Pass & Seymour Porcelain Sockets.
The accompanying cuts illustrate two types of "P. & S." porcelain weatherproof sockets and receptacles. These sockets are neat in design and durable in strength. The porcelain is of the well-known Pass & Seymour manufacture, making it strong enough to stand very severe shocks. The very best grade of stranded rubber-covered wire is used on the sockets and receptacles. The stranded lengths of wire are eight inches, but wires of any length can be furnished on order, at a slight advance in cost. Pass & Seymour have just issued some new special prices on these goods and would be glad to quote them and also submit samples. The Chicago office of the firm is located at 130 West Jackson Boulevard and is in charge of John W. Brooks.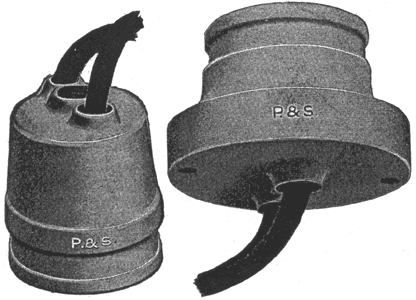 Pass & Seymour Porcelain Sockets.