---
Receptacle for Temporary Decorative
Wiring.
Illustrated herewith is a new receptacle intended for temporary decorative wiring that has just been placed on the market by Pass & Seymour of Solvay, N. Y.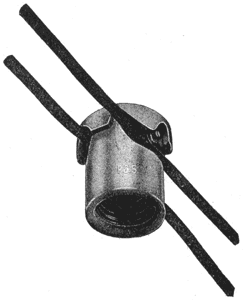 Receptacle for Temporary Decorative Wiring.
This is a simple receptacle, and it is not necessary to take the device apart to wire it up, or to remove or in any way affect the insulation of the wire. By inspecting the illustration it will be noticed that an unusually simple method of wiring is made possible. The device is designed for an Edison base only, and is to be used on standard stranded wire.
The receptacle is carried in stock by Pass & Seymour, at all. of their branches, and in addition to selling the goods direct they have under consideration the possibilities of renting these receptacles for short periods of time, and will be glad to correspond with electrical men who are interested.