---
New Porcelain Specialties.
For over a year and a half the Peru Electric Manufacturing Company of Peru, Ind., has been busily engaged in developing a line of porcelain that shall not only meet the National Code standard but also possess a number of novel and improved features that would win it a place in the first rank with the contractors and jobbers, and in fact all those desirous of installing the most improved porcelain fixtures.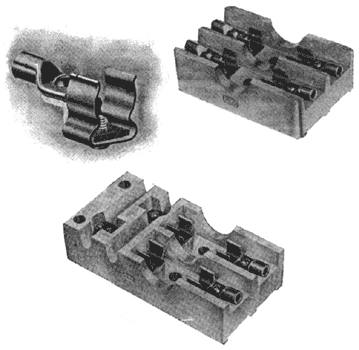 New Porcelain Specialties.
One of the specialties on which the company has spent considerable time and trouble is the Peru National Code Standard cartridge fuse block. The fuse block is a very simple one, but is at the same time substantial and convenient. Fig. l shows the terminal, which is the metallic portion of the block. Attached to this is the tubular lug into which the wire or cable is soldered. A special feature of the block lies in the fact that these terminals are in effect practically countersunk in the porcelain; that is the block is so designed that the terminals set back from the edge and the porcelain walls extend above them. Thus the possibility of short-circuit is reduced to a minimum. The clips are of the best quality of spring bronze and are so formed as to make the best contact with the fuse.
Fig. 2 is a two-wire main fuse block, while Fig. 3 is a two-wire single-branch for 30 to 60 amperes. Other styles include a block for a two-wire double branch and a block used where a crossover is required, the latter coming in sizes up to 30 amperes. Peru blocks will take any National Code standard fuses of corresponding capacity.