---
Peru Tie Buttons.
One of the National Code Standard specialties that has been recently developed by the Peru Electric Manufacturing Company of Peru, Ind., is the line of Peru tie buttons, illustrated herewith.
Fig. 1 shows the Peru cleat tie button, which is in reality a cleat and tie button combined. There is a cavity in the cap which accommodates a knot in the cord, relieving the main wires from all strain. Contractors will appreciate the saving feature in this specialty. The manufacturer says that a cleat, two screws and half the time in wiring are saved every time a Peru tie button is installed. Not only is this saving effected, but the result is said to be neater and more workmanlike.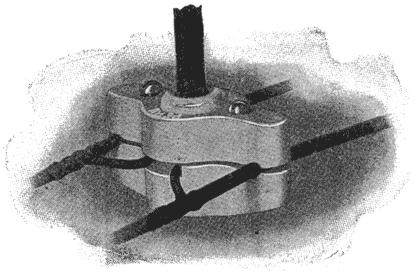 Fig. 1. Peru Cleat Tie Button.
Figs. 2 and 3 show, respective,. the concealed and molding designs of this tie button. The illustrations are self-explanatory and show at a glance the features of value to construction men that are embodied in these specialties. A peculiar feature of the tie buttons will be found in the washer collars that surround the screws and keep them from falling out of the cap. This little feature will be valuable to the practical wireman.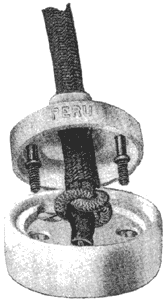 Fig. 2. Peru Concealed Tie Button.
Peru tie buttons are designed for use when soldering the lamp cord to the main wires, and are safe and substantial devices for wiring factories, cellars and all damp places. It will be noted that there are no terminals exposed, and the caps will accommodate a knot in the cord, taking all strain off the main wires.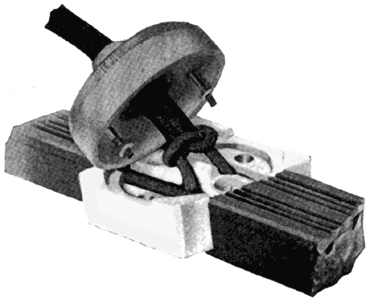 Fig. 3. Peru Molding Tie Button.