---
New Fuseless Rosette.
A new specialty that has been placed on the market by the Peru Electric Manufacturing Company of Peru, Ind., is its fuseless rosette, illustrated herewith. The novel feature in this rosette is its simple design, as it will be noted there are no brass parts other than the terminals. The screws used in fastening the rosette to the ceiling hold the cap and base together, doing away with a half-turn connection.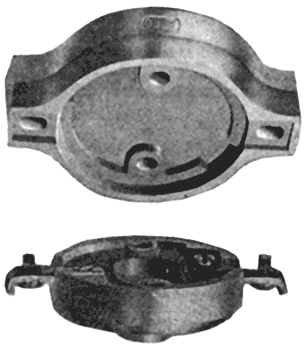 New Fuseless Rosette.
The Peru fuseless rosette is a National Code Standard device. It is neat in appearance and the cap is provided with a cavity to accommodate the knot in the cord. The cuts show how completely the porcelain base protects the terminals and the ease with which this rosette can be wired.