---
New Line of Fuseless Rosettes.
"The Little Twister," a new line of fuseless rosettes, has been designed by the Peru Electric Manufacturing Company of Peru, Ind., and will be placed on the market within a very short time. These rosettes are made in three styles for cleat, concealed and molding work, and they have a number of special features of merit that recommend them to all practical wiremen.
Although small in size, the rosette is a substantial and practical article, and is designed to meet all requirements as to safety and utility. It is neat in appearance and of safe construction. It is made in two pieces, secured together by a half turn connection. The base can be installed when the wires are being stretched, and the cap, with lampcord and socket attached, inserted by a half turn, thus saving considerable time in wiring.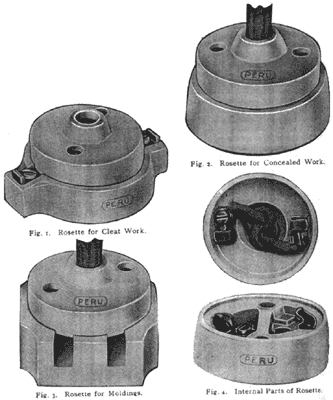 New Fuseless Rosettes.
Fig. 1 shows the "Little Twister" for cleat work, Fig. 2 for concealed work, and Fig. 3 for molding. The inside construction is shown in Fig. 4. A large cavity in the cap takes a knot in the cord and relieves the connections from all strain. It will be noted that the terminals, both cord and main wire, are easily accessible for wiring, which is one of the marked features. A special feature in the rosette is a spring lock under the connection to the base, which prevents the cap from working loose, which guarantees a good contact between the parts.
This line of rosettes will be ready for delivery the latter part of February, and the Peru company will gladly furnish descriptive literature and prices to all interested.