---
Transformer Primary Cut-out.
An improved form of a transformer primary cut-out, designed to protect the high-tension side of transformers, is introduced by the Westinghouse Electric and Manufacturing Company. It is made entirely of porcelain, and its form is such that it has high insulating and arc-breaking qualities. The plug to which the fuse is attached projects between the terminals, the upper end of it rising well into the top of the block and interposing an effective barrier, and thus making it impossible to maintain an arc. This fuse is 11 inches in length, making a long break, and is so placed that the vapors of a discharge are blown down and out of the device and away from the terminals. Fig. 1 shows the device complete, while Fig. 2 shows the fuse terminals and the plug.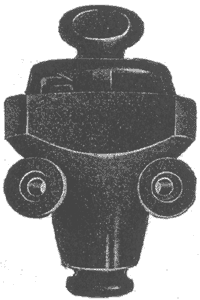 Fig. 1. Cut-Out Ready for Mounting.
The line wire is carried directly to the top of the device and attached to it as to an ordinary insulator, which it thus displaces. To reach the terminal the wire must be bent around the edge of the block, and is so supported in an angle between the terminal post and the porcelain case that it cannot be loosened by any swaying of the wire in the wind. The plug enters from the bottom. When it is raised into place, a partial turn draws the knife blades on the plug into the jaws on the block, preventing the plug from dropping out or being blown out.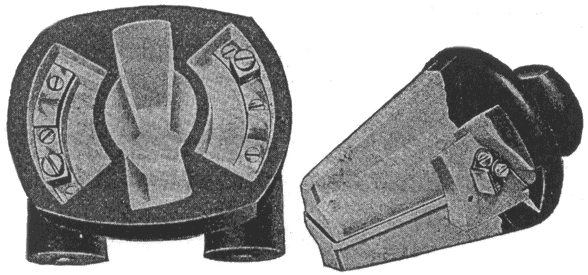 Fig. 2. Cut-Out Showing Fuse Terminals and Plug.
All live parts are protected from the weather by the projecting edges of the block and by placing the terminals well above its lower surface, with no apertures in the side or top. A bend in the fuse wire brings it into plain view at all times, and it is thus possible to observe its condition without removing the plug, guarding against any liability of opening the circuit when there is a current upon the line.
The cut-out is fastened to the cross-arm or other support by two screws, passing through porcelain tubes, which form a portion of the block. It has a rated capacity of 2,500 volts, 30 amperes. It is small, light, easy to install and to re-fuse, and promises to be a desirable addition to the assortment of electrical line apparatus.