---
A New Fuseless Rosette.
The fuseless rosette illustrated herewith is adapted particularly for concealed work, and is the only fuse- less rosette made specially for this class of work. As seen by the illustration, a. neat dome gives ample room for the knot in the cord and completely covers all contact pieces and inside screws. Heavy porcelain wall's' separate the leading-ill wires, making short-circuiting impossible, and adapting the rosette for use with 250-volt work. Its extreme neatness and ease of wiring are evident advantages. This rosette is made by the H. T. Paiste Company of Philadelphia.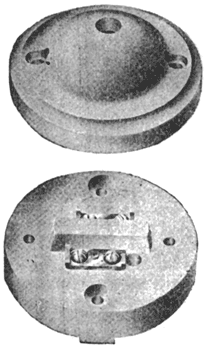 A New Fuseless Rosette.