---
NEW
Apparatus
AND
Appliances.
·
·
---
COMBINED SOCKET AND REFLECTOR.
Fig. 21 herewith shows a combined socket brought out by the H. T. Paiste Company, of Philadelphia, Pa. The combination is made in both the pendant and bracket types, and is composed of a porcelain water-proof socket provided with a petticoat. This petticoat acts as the reflector and it is also claimed serves to keep soot and rain from lodging on the lamp and thus absorbing much of the light. The socket is known as the P-K deep-grooved, and is made for either Edison or T-H bases.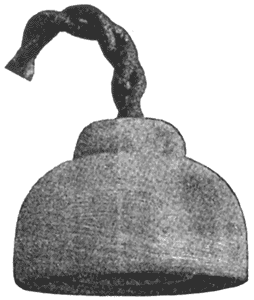 Fig 21. — Socket and Reflector.