---
New Apparatus
and Appliances.
---
·
·
COMBINATION SWITCH AND PLUG CUT-OUT.
A new line of combination switch and plug cut-outs has just been placed on the market by H. T. Paiste Co., Philadelphia, Pa., called "P-K" panel cut-outs. These comprise 25 and 30-amp. mains for 125 and 250-volt circuits, and single and double branches for both two and three-wire systems. In addition to the six styles of cut-outs in this line, the company furnishes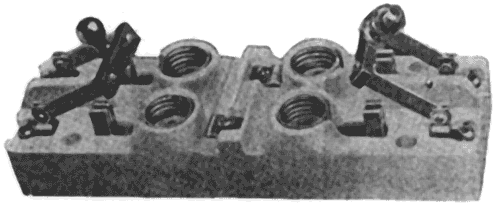 Fig. 6. — Switch and Cut-Out.
oak panel-box fronts complete with rim locks and key, or the wooden panel-boxes entirely separate from the fronts. These boxes are lined with 3/8-in. asbestos board, and are all ready for setting into the studding. With this line of material at his service, the wireman can build his own-panel boards of any number of circuits. The material is said to be approved by the National Board of Fire Underwriters.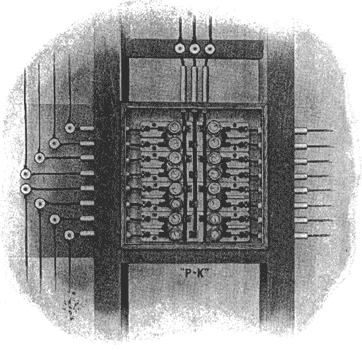 Fig. 7. — Panel Board.