---
NEW
Apparatus
AND
Appliances.
---
NEW TELEPHONE LINE APPLIANCES.
The cable clip illustrated by Fig. 1 is made of a single piece of zinc, and will accommodate, it is said, the several different sizes of telephone cables; the engraving showing a full-size hanger gripping a 3/4-inch cable. As will be noticed, the hanger is very simple and quickly applied. The circular enlargement at one end of the hanger is held against the cable, and the free end is wound around and passed through the lower slot, around the cable again, through the upper slot, up over the suspension wire and hooked into the upper slot, as shown. The tree end may also be passed once around the cable, then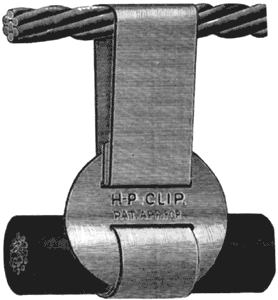 Fig. 1 — Cable Clip.
through the lower slot, passing up over the suspension wire and hooking into the upper slot. Fig. 2 shows an insulated bridle or distributino ring for telephone wires. It is made of iron, heavily coated with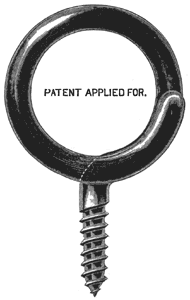 Fig. 2 — Distributing Ring.
enamel, and the wires are inserted or withdrawn at the opening on the side. When applied to brick, stone or ironwork an expanding sleeve (Fig. 3) is provided into which the bridle ring screws directly, the shield expanding at the inner end, and holding the ring rigidly in position. All three appliances are made by James S. Barren & Co., of New York.

Fig. 3 — Expansion Sleeve.