---
NEW
Apparatus
AND
Appliances.
·
·
---
A NEW FUSELESS ROSETTE.
The widespread adoption of multiple feeders and central distributing panels has led to an extensive use of fuseless rosettes, the policy being to centralize safety devices as much as possible. To meet the growing demand tor this class of ceiling rosette the New England Electric Manufacturing Company, of Boston, Mass., has designed the form illustrated by Fig. 1. The chief feature of this rosette is that the lamp cord is threaded outward through two small holes after being carried once through the center hole, and is then carried back again through the center hole to the terminal clips. This obviates the necessity for tying a knot in the cord in order to avoid putting the weight of the lamp on the ends of the cord under the binding screws.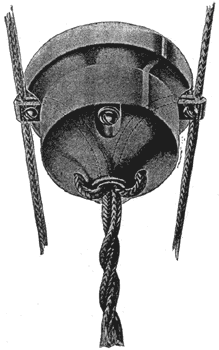 Fig. 1 — Fuseless Rosette.
·
·