---
Abstracts from Foriegn Contemporaries.
·
·
An Insulator for Conductor Rails. — Among the many problems attending the substitution of electric power for steam locomotives in railway working, of no small importance is the attainment of a thoroughly satisfactory means of supporting and insulating the conductor rails. It is essential that the rail supports, while providing permanent insulation under the difficult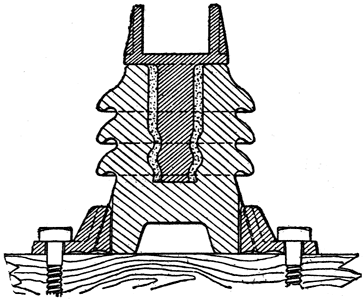 Fig. 4. — Third Rail Insulator.
conditions prevailing on railway tracks, should be substantial enough to withstand rough usage and sufficiently strong mechanically to resist considerable vibration and shock. The London Electrical Review describes the newly patented insulator shown by Fig; 4 in a recent issue. This has been designed with a view to meeting the above requirements. It consists of a pedestal of porcelain of substantial proportions with a large base resting directly upon the rail tie and secured thereto by external malleable iron fastenings. In this respect it differs considerably from earlier types of rail insulators in which the porcelain is supported on a central stud after the manner of telgraph insulators. The conductor rail is held in position by a chair of malleable iron, provided with a depending stud which is cemented into a recess in the insulator. The insulator shown in the illustration is fitted with a chair for a conductor rail of rectangular section. The same type is, supplied with chairs adapted for other sections of rail — e. g., flanged or channel sections. The insulator is of high-grade vitreous porcelain of a form well adapted for manufacture, and it will be seen from the illustration that it occupies the whole of the vertical space below the rail, thus presenting a maximum length of path to resist surface leakage of current.