---
New Apparatus
and Appliances.
---
·
·
IMPROVED CUT OUT.
Fig. 2 herewith shows the "absolute" cut-out made by the Philadelphia Electrical & Manufacturing Company, Philadelphia, Pa. The cut-out is designed for use on either direct or alternating current and is unique in that the lamp can be entirely disconnected from the line. The enclosing ease of the switch is made of galvanized cast-iron and the other metal portions of the switch such as the hook, hanger, etc., are made of brass. The handle or plug to which the lamp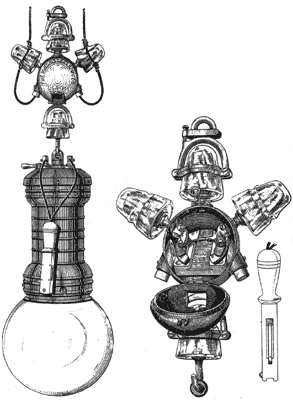 Fig. 2. — Improved Cut-Out — Fig. 3.
is attached is made of porcelain, so that the insulating qualities of the switch are not lacking. Reference to Fig. 3 will show how by simply pulling the handle out of the switch the lamp is disconnected from the line, and also the impossibility of cutting out the lamp without first closing the line, and vice versa the impossibility of opening the line without cutting the lamp in. The switches are made in two styles as shown in the illustrations, Fig. 4 being intended for attaching permanently to the pole or cross-arm, and for testing purposes also.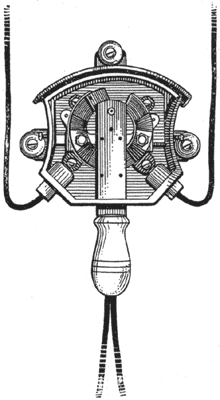 Fig. 4. — Stationary Type of Cut-Out.
·
·