---
The "Iceberg" Electric Fan.
Among the thousand and one useful appliances which modem electricity has brought within the reach of the public, it is doubtful whether there is one which will insure so much solid comfort and be so readily appreciated as the article illustrated in this issue of the REVIEW. There is one universal want during the hot summer months — a refreshing breeze. All sufferers from the heat will appreciate this invention known as the " Iceberg Electric Fan." It is a handsome instrument, standing 14 1/2 inches from the base to the top of the fan. It consists of an iron base with brass upright, upon which is placed a small electric motor, having attached a highly finished 9-inch brass fan. There are two binding posts in the base, to which are attached two wires leading from the battery which accompanies the fan. When the battery is attached, the fan revolves almost noiselessly at a high speed, and throws out a continuous breeze which maybe felt more than 10 feet away. The battery will run the fan about four hours and may then be replenished in less than five minutes. The battery and fan are exceedingly simple, and may be operated by a child.The fans will give a breeze equal, to 2,100 cubic feet per hour at a velocity of 8.6 miles per hour. Desks, parlors, bedrooms, counters, etc., will soon be ornamented by this desirable invention and on hot nights an " Iceberg " fan will be an addition to the bedroom that will bring cooling breezes, and, of course, pleasant dreams. As a present to a sick friend, one of these fans would certainly be most acceptable. The fan can be operated by any bichromate battery of three cells and upwards. The B battery, of Stout, Meadowcroft & Co., illustrated in Fig. 2, is very compact, and, although it has three cells, the box containing it measures only 4 1/4 x 5 1/4 x 6 3/4 inches.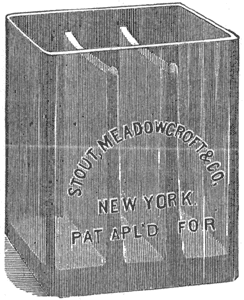 Pat. Applied for, S. M. & Co.
3-Cell Battery in One Jar.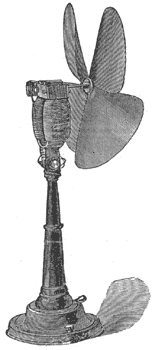 The "Iceberg" Electric Fan.