---
The Leclanche Disque Cell.
We illustrate the Leclanche Disque Cell complete on this page. The Leclanche Battery Company have exclusive right to the trade mark "Gonda," which now appears on every genuine Leclanche battery, and on these alone. This battery is first-class in every respect and is one of the most popular and efficient ever constructed. It is particularly adapted for telephone use, and years of trial in this field have failed to discover any defects. The battery with trade-mark, and label as shown in the cut is the genuine Leclanche battery as now manufactured by the Leclanche Battery Company, 149 West 18th street, this city. This company report sales excellent at the present, and the demand for the battery in this country and Europe steadily increasing.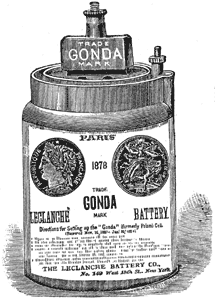 The Leclanche Battery.