---
Disque Leclanche Battery.
---
The "best battery" question has always been one of leading interest with telephone exchange managers, and we have no doubt that a great many of them will be glad to have their attention called to any device that promises the desired results. The cut given below represents the Disque Leclanche battery, now furnished by J. H. Bunnell & Co., of 112 Liberty street. With this form of battery telephone companies are already to some extent familiar, though preference has been displayed for the prism form on the score of economy. The claim of the firm now is that the merit of cheapness rests with their disque type. As the profits of working telephone exchanges appear to lie at present more in what is saved on running expenses than in additions to the list of subscribers above a certain number, it may be well to present the claim made for this battery, as follows: "The Complete Disque Cell is furnished, in quantity, for the price of a single pair of prisms, while instead of requiring renewal once every tour to six months, the Disque Porous Cup does first-class transmitter and bell work for from 18 to 30 months. The renewal of the porous cup costs but little more than half the price for prisms. These great advantages in price and durability are calculated to produce important results on the dividends from any telephone plant, especially if it has several hundred transmitters in use. A number of the largest telephone companies in the United States have already availed themselves of this plain advantage and are using this Disque Battery exclusively. Now that the Disque, which is the foundation sal ammoniac Battery and the best of any or all, has also become the cheapest, there can be no question as to the entire economy of its use above all others."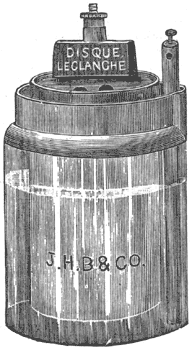 Disque Leclanche Battery.