---
The "Aurora" Battery.
---
One of the most encouraging signs of the activity in the field of electricity is the impetus which has been given to the production of primary batteries for various purposes, and especially for that of domestic electric lighting.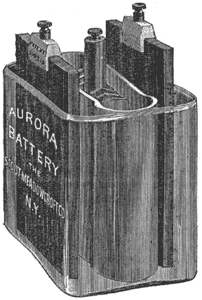 Fig. 1. — the Aurora Battery.
One of the latest forms of these is the "Aurora" battery of the Stout-Meadowcroft Company, of this city. As will be seen in the illustration, Fig. 1, the battery consists of a gallon glass jar in which are placed two plates of carbon, connected together. Between these plates of carbon is placed a porous cup of special form, which contains the zinc, shown in Fig. 2. The solution used in the battery is said to maintain the action of the battery for weeks, and thus makes it convenient for dentists, physicians, etc. Its electromotive force is 2.2 volts, and it gives a current of 6 amperes.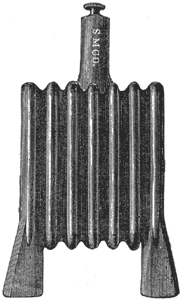 Fig. 2. — Zinc of Aurora Battery.