---
NEW
Apparatus
AND
Appliances.
·
·
---
·
·
A NEW WALL INSULATOR PIN.
An ingenious pin for securing porcelain insulators to brick walls has been designed by Dr. Alfred Muller, 132 Nassau Street, New York. Fig. 18 shows the pin and a porcelain knob, separated, and Fig. 17 shows them screwed together. The pin is made of a non-oxidizable metal or alloy of metals; it is provided with an ordinary screw-thread at one end for holding the insulator, and its main body is formed with angular or ratchet grooves. This portion is put in a hole pierced in a wall and secured therein with cement or any other suitable material, the screw-threaded portion, of course, projecting. As this latter portion is threaded to engage with an internal screw thread in the center of the insulator, the latter is simply screwed upon the threaded end of the pin which projects from the wall.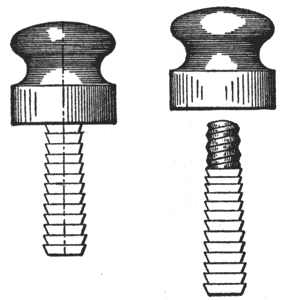 Fig 17. — Insulator Pin. — Fig. 18.
The insulator is thus put up without the use of a special screw, so that there is not only saved the usual iron screw, which oxidizes and thereby affects the insulator, but also considerable time; more-over, when the stem is once fastened in the wall, it is perfectly secure against loosening.