---
Apparatus Designed by the Detroit
Electrical Works.
The Detroit Electrical Works have shown considerable progress lately in bringing out some new designs of electric bells which will be found illustrated herewith. The octagon bell has an iron frame, and is a very unique pattern. This company has also designed a new style of fire alarm boxes which will be found of interest to some of our readers. The cuts shown on this page represent their standard fire alarm telegraph box, the movement of which is contained within a small cylindrical box with a glass front. The gears are accurately cut and ground and the circuit breaker is perfect in its operation. To signal the fire department, it is simply necessary to pull down the hook. This gives a signal to the fire department and repeats the number of the station four times. This box contains a relay bell, lightning arrester, signal bell key, and is thoroughly protected from dampness, the movement and all the working parts being placed within a smaller box with an iron door.
The small box is used for village system and in warehouses, mills, etc.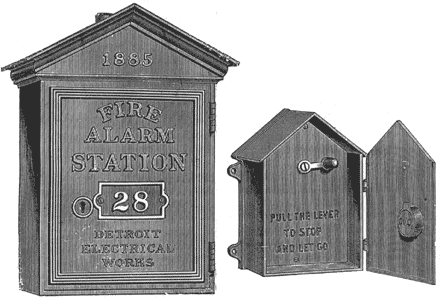 (Right) Box for Village System.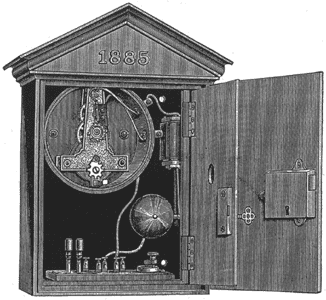 Fire Alarm Telegraph Boxes.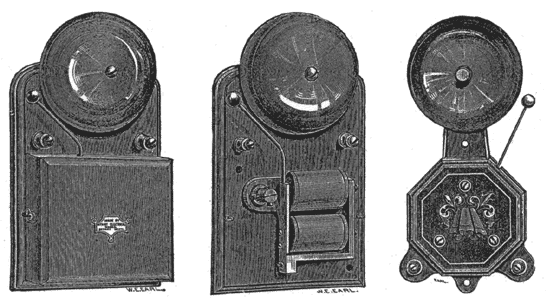 (Left) Box Bell. (Center) Box Bell (Internal Mechanism.)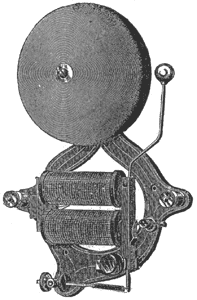 Skeleton Bell.

New Styles of Bells Designed by Detroit Electrical Works.