---
Electrical Specialties.
The Electrical Supply Co., at Chicago, have been mainly instrumental in introducing Fletcher's electro-mechanical devices to the public, and while these specialties are simple, yet they are thoroughly practical, having been invented by Mr. Fletcher, whilst manager of one of the largest electric light plants in the country.
A brief sketch of these devices may be of interest to our readers.
Fletcher's insulating lamp hanger is used to insulate electric arc lamps from grounds when placed on boom or iron awnings, in front of stores or, when hung on to gas pipe or other direct "grounds" inside, but its most useful office is to prevent wear on the sash cord (or rope) to which lamps are hung at street intersections and to thoroughly protect them from grounds in wet weather; when this hanger is used the rope cannot become worn and therefore the lamp will not fall.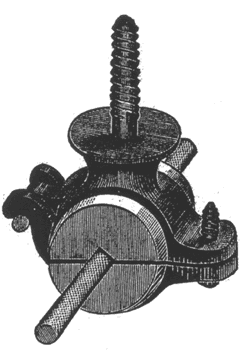 No. 2 — Fletcher's Porcelain Insulation Gem Wire Holder.
The sleet proof pulley, as its name indicates, is a protection against pulley sticking in sleety weather, and it is mechanically so well made that lamps pull up much easier with it than with the ordinary pulley.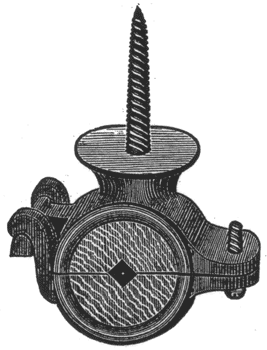 No. 1 — Fletchers Gem Wire Holder.
(Wood Insulation.)
The "midget" pulley is the small size sleet-proof pulley used in raising and lowering incandescence lights at street intersections, or other light weights; it is intended to be used with a 1/4-inch cord.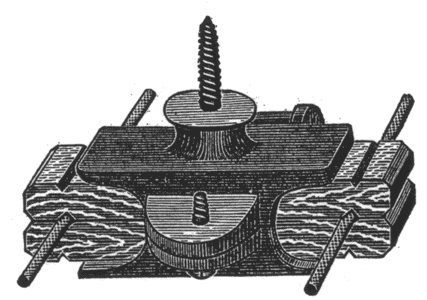 No. 4 — "Duplex" Wire Holder.
The "jumbo" sleet-proof pulley is precisely the same as the two above mentioned, except that it is to draw up extra heavy arc lamps and is large enough to take an inch rope, if desired.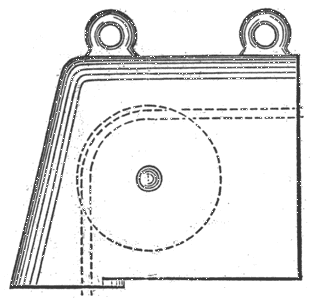 Jumbo Sleet Proof Pulley.
The "twin" sleet-proof-pulley is so arranged that a weight may he hung on to equalize weight of lamp so that any boy can pull them up; this pulley is truly a labor-saver in every sense of the word, and where trimmers can have the use of this pulley, they can trim 50 per cent. more lamps than with the old plan.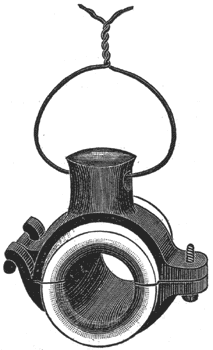 No. 3 1/2 — Tree Top Wire Holder.
Fletcher's Gem Wire Holders are entirely original in their design and there is nothing made which resembles them in any way.
Nos. 1 and 1 1/2 are wood insulation designed to be used in factories and other dry places.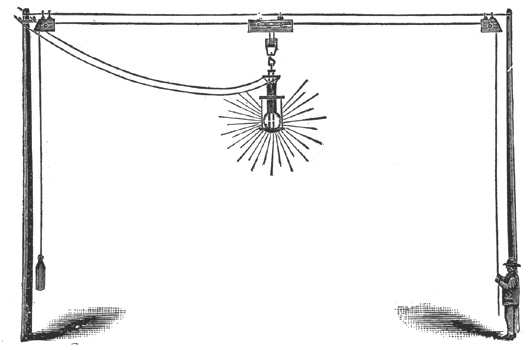 Twin Sleet Proof Pulley.
No. 2 is of the best porcelain insulation; is suitable where ornamental or plain wiring for arc circuits is required, inside buildings or store rooms; wiring done with this wire-holder does not in any-way injure the insulation, nor is there any tie-wire, therefore the insulation is kept absolutely perfect.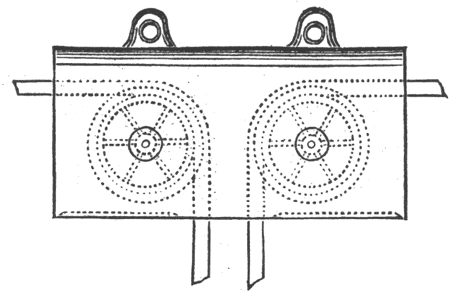 No. 3 — "Jumbo" Wire Holder.
No. 3. "Jumbo" Wire-Holder is an extra heavy iron frame and screw, with insulation of best opalescent glass. The opening is one inch in diameter, flanged at each end and is capable of being used as an insulator to convey the largest cable or smallest wire, either in or out of doors; it is especially adapted for use in breweries, tunnels and other damp places.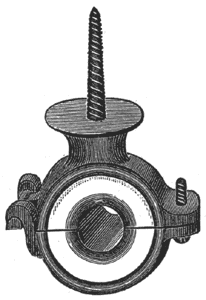 Hanging Arc Light Lamps at Street Intersections.
No. 3 1/2 "Tree Top" Wire-Holder is the same frame and insulation as No. 3, but instead of the screw a "boss" is cast as a part of frame, a hole drilled through it for the purpose of changing the same to the limb or body of a tree with a wire as may be required, and tree may sway back and forth without, the least injury to insulation or danger of breaking the live wire.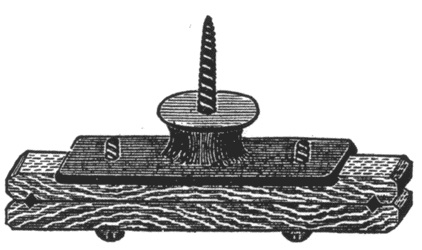 No. 5 — Incandescent Wire Holder
(Two Wires, Wood Insulation).
Nos. 4, 5 and 6 are mounted with wood cleats, No. 4 for either small arc or medium size incandescent wires; Nos. 5 and 6 are for building branches on the ceiling. The benefit derived from the use of these wire-cleats is to protect the wall from being marked with flies or electric current and to hold the wire taut for all time. The wire is by this means suspended one inch below the ceiling, only the outer edge of the boss leaving its mark when wire is taken down.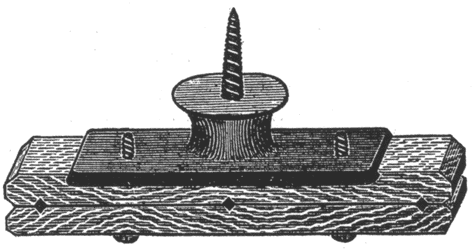 No. 6 — Incandescent Wire Holder
(Three Wire, Wood Insulation).
The Dayton Lifts Tackle is said to be the only device yet invented which will cut an arc lamp out of circuit at the cable and lower the same to the ground without danger to the trimmer. It is especially valuable to electric street railway companies when arc lamps are to be lowered between their wires, as there is no loop (or current) wires to lamp where the Dayton Lifts Tackle is used.

Insulating Lamp Hanger.