---
Obituary — Hiram Sibley.
---
The founders of the telegraph in this country are rapidly passing into history, and they who still remain among us are but few. Last week saw the list of survivors once more reduced by the death of Hiram Sibley, at Rochester, N. Y., 81 years of age. Mr. Sibley was born at North Adams, Mass., in 1807, where his parents lived in modest circumstances. His education consisted of but the ordinary country schooling, and he was soon at work as a shoemaker's apprentice. In a few years he bad started a machine shop, and at the end often years be was able to sell it for a sum of money large enough to enable him to go into business at Rochester as a banker. It was about 1850 that propositions were first made to him to become connected with the telegraph, and in 1851 he bought a large interest in the House patents, upon which he and a few others then organized the New York & Mississippi Valley Printing Telegraph Company. Construction work began promptly, while a policy of aggressive consolidation was also persued. In a short time the opportunity presented itself for an arrangement with Ezra Cornell, who held Morse patent rights for a large portion of the West, through the Erie & Michigan Telegraph Company. Hands were struck, and the combination resulted in the formation of the Western Union Telegraph Company in 1856.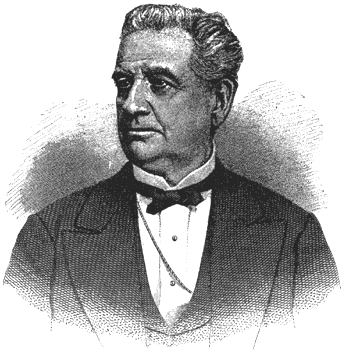 Hiram Sibley.
Soon after the new company had settled down to its work of extension, on lines that have never been departed from by its management, it was seen by such men as Mr. Sibley that an effort must be made to reach the Pacific Coast across the continent. In this matter, Mr. Sibley's faith and judgment and courage were displayed to their fullest extent, but he was met by timidity among his associates, who objected to the scheme as wild and visionary. His language to them was: "Gentleman, if you won't join hands with me in this thing, I'll go it alone." In 1860 he appealed to Congress, and the same year an act was passed by it which included provision for an annual subsidy for ten years of $40,000, and the enterprise was actually carried out with success in 1861, thanks almost wholly to the zeal of Mr. Sibley. This in turn was regarded as a step to the execution of a plan for reaching Europe by a line running across Asia and connecting at Behring Straits. Work was carried so far that not less than $3,000,000 was spent in the preliminary construction of the Eussian-American telegraph; but just at the moment of practical completion, the line was met with the opposition of the Atlantic cable, whose success was at last assured; and in face of the fact that it was a competition of only 2,000 miles of cable against a stretch of 16,000 miles of unprotected land line, the enterprise, though magnificent, was perforce abandoned.
For some years Mr. Sibley remained active in the direction of the Western Union Company as its president and vice-president, but in 1869 he resigned office and ceased from participation in telegraphic work. He had not, however, though broken in health, exhausted his energies. He established a very large seed and nursery business at Rochester, and took a share in the management of several railroads, banks, salt mines, farms and other things on a large scale. But his reputation and fame were not simply those of a great capitalist. His liberality was in keeping with the largeness of his enterprise. At Cornell University, founded by his old friend, Ezra Cornell, he built and endowed the Sibley College of Mechanic Arts. For Rochester University he built Sibley Hall, used as a library and museum, at a cost of $117,000. To his native place of North Adams he gave a church which cost $36,000, and his various benefactions, from first to last, are estimated to have reached half a million dollars. It is said that his fortune may amount to not short of $10,000,000. The interment took place at Rochester on July 15.